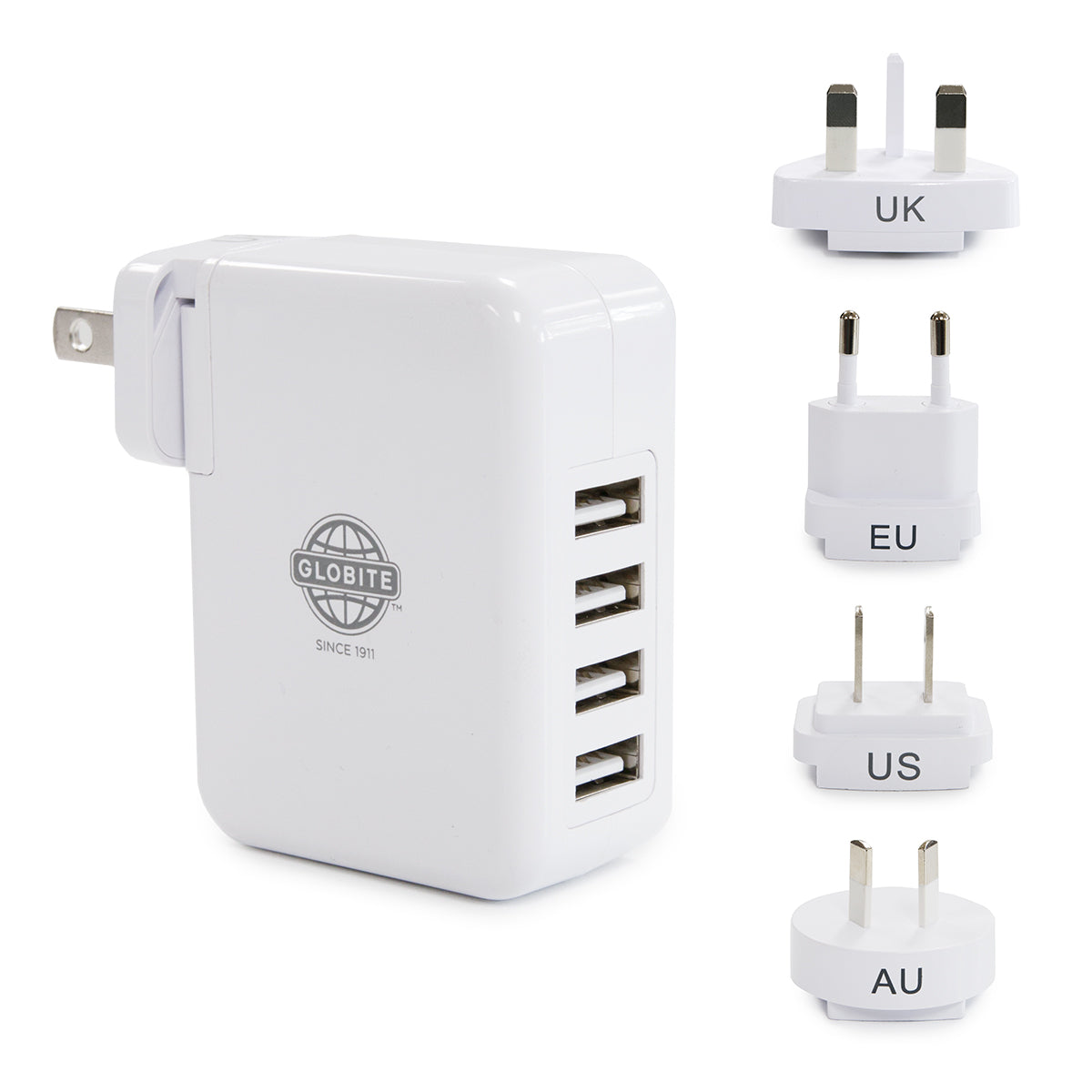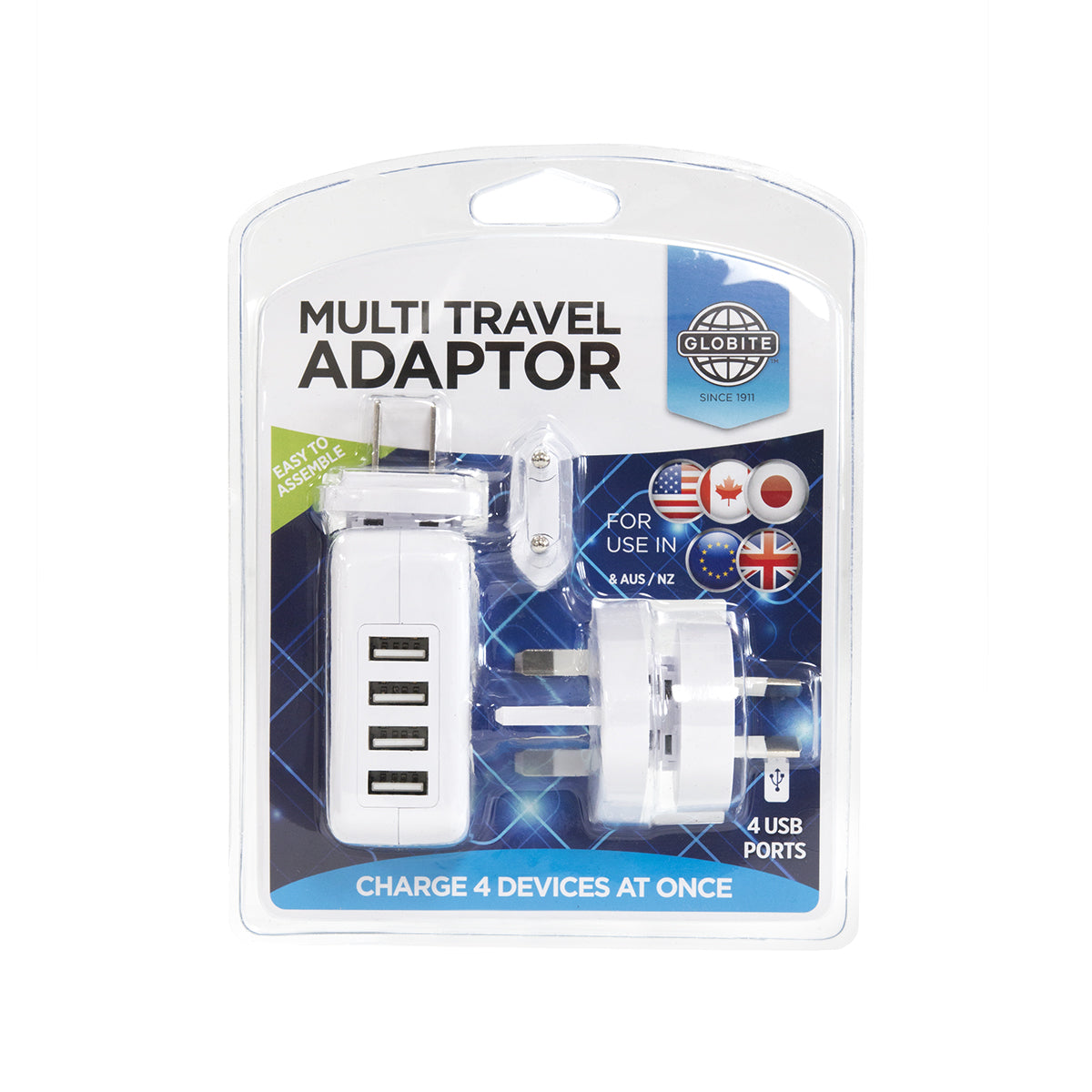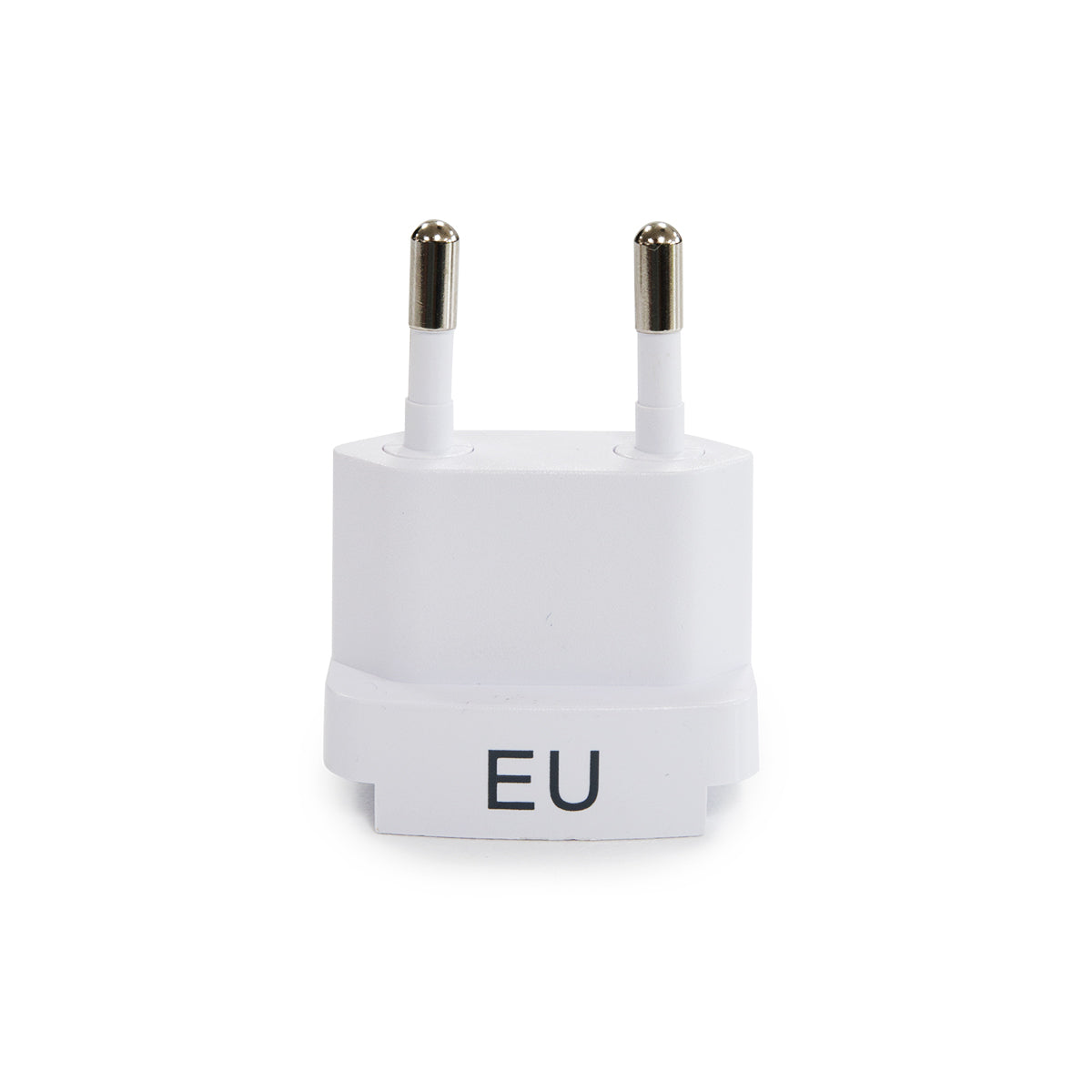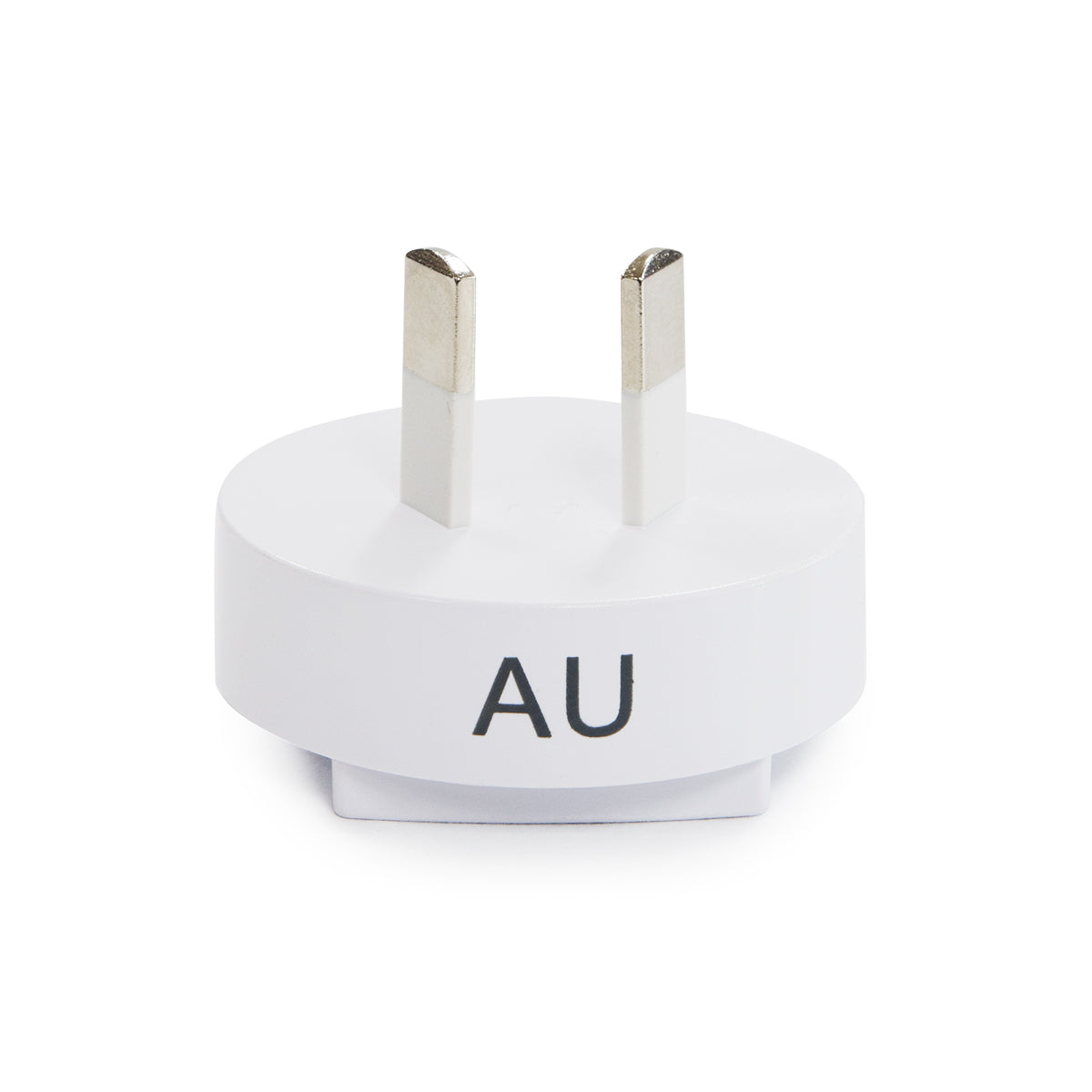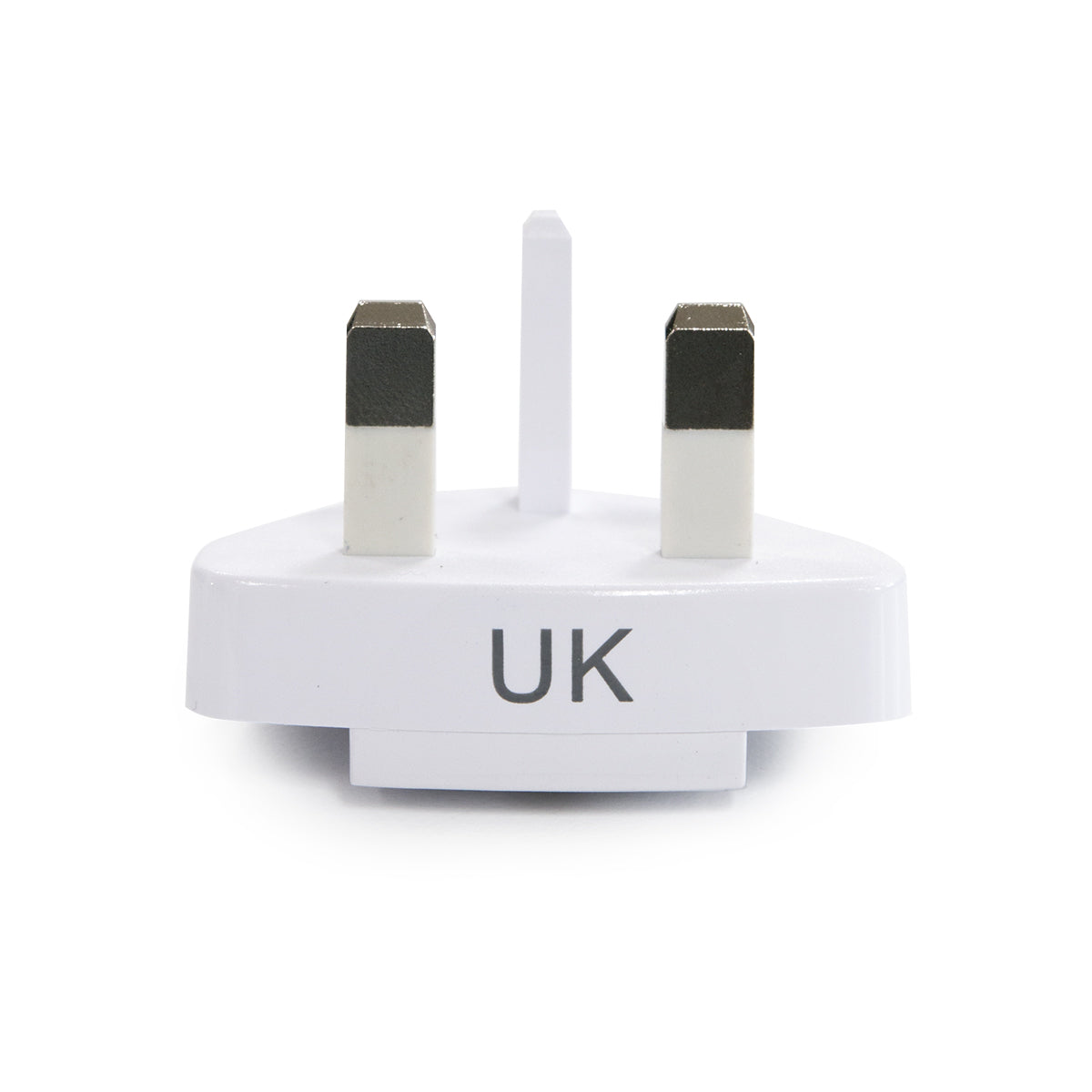 Make charging overseas a breeze with the 4-Port USB Travel Charger. Charge your phone, iPad, tablet and camera all at once with our Globite 4 Port USB Charger.
This super fast charging hub is perfect for family vacations when the entire tribe needs to power up at once. Light weight design is easily portable and includes 4 country plugs and can be used in Australia, EU, USA, UK
Product Features:
Charge up to 4 devices at once
Plugs in to wall
Quick charging
Lightweight and compact design
Input: AC100-240V 50/60Hz, O.6A
Output: DC5V, Max 4.2A SAA-171180-EA
NOTE: Travel adaptors do not convert voltage or frequency. Check voltage requirement of appliance before use. If the supply voltage and the voltage required for your appliance differ then use an appropriate transformer, or check if your appliance has a variable voltage section.
AU adaptor can be used in:
American Samoa, Argentina, Australia, China, Cook Islands, East Timor, Fiji, Kiribati, Nauru, New Zealand, Papua New Guinea, Samoa, Solomon Islands, Tajikistan, Tibet, Tonga, Tuvalu, Uruguay, Uzbekistan and Vanuatu.
US adaptor can be used in:
American Samoa, American Virgin Islands, Anguilla, Antigua and Barbuda, Aruba, Bahamas, Barbados, Belize, Bermuda, Bolivia, Bonaire, British Virgin Islands, Cambodia, Canada, Cayman Islands, China, Colombia, Costa Rica, Cuba, Curaçao, Dominican Republic, Ecuador, El Salvador, French Polynesia, Guam, Guatemala, Guyana, Haiti, Honduras, Jamaica, Japan, Laos, Lebanon, Liberia, Maldives, Marshall Islands, Mexico, Micronesia, Montserrat, Netherlands Antilles, Nicaragua, Niger, North Korea, Palau, Panama, Peru, Philippines, Puerto Rico, Saba, Saint Kitts and Nevis, Saint Vincent and the Grenadines, Saudi Arabia, Sint Eustatius, Sint Maarten, Suriname, Taiwan, Thailand, Tibet, Trinidad and Tobago, Turks and Caicos Islands, United States of America, Venezuela, Vietnam, Virgin Island (British), Virgin Islands (American) and Yemen.
UK adaptor can be used in:
Bahrain, Bangladesh, Belize, Bhutan, Botswana, Brunei Darussalam, Cambodia, Channel Islands, Cyprus, Dominica, Falkland Islands (Malvinas), Gambia, Ghana, Gibraltar, Grenada, Guatemala, Guyana, Hong Kong, Iraq, Ireland, Isle of Man, Jordan, Kenya, Kuwait, Lebanon, Macau, Malawi, Malaysia, Maldives, Malta, Mauritius, Myanmar, Nigeria, Oman, Qatar, Saint Kitts and Nevis, Saint Lucia, Saint Vincent and the Grenadines, Saudi Arabia, Seychelles, Sierra Leone, Singapore, Solomon Islands, Sri Lanka, Tanzania, Uganda, United Arab Emirates, United Kingdom, Vietnam, Yemen, Zambia and Zimbabwe.
EU adaptor can be used in:
Afghanistan, Åland Islands, Albania, Algeria, American Samoa, Andorra, Angola, Argentina, Armenia, Aruba, Austria, Azerbaijan, Azores, Balearic Islands, Bali, Bangladesh, Belarus, Belgium, Benin, Bhutan, Bolivia, Bosnia and Herzegovina, Brazil, Bulgaria, Burkina Faso, Burundi, Cambodia, Cameroon, Cape Verde, Central African Republic, Chad, Chile, China, Comoros, Congo, Cote d'Ivoire, Croatia, Cuba, Curaçao, Czech Republic, Denmark, Djibouti, East Timor, Egypt, Equatorial Guinea, Eritrea, Estonia, Ethiopia, Faroe Islands, Finland, France, French Guiana, French Polynesia, Gabon, Georgia, Germany, Gibraltar, Greece, Greenland, Guadeloupe, Guinea, Guinea Bissau, Hungary, Iceland, India, Indonesia, Iran, Iraq, Isle of Man, Israel, Italy, Jordan, Kazakhstan, Kuwait, Kyrgyzstan, Laos, Latvia, Lebanon, Liberia, Libya, Liechtenstein, Lithuania, Luxembourg, Macau, Macedonia, Madagascar, Madeira, Mali, Martinique, Mauritania, Mauritius, Moldova, Monaco, Mongolia, Montenegro, Morocco, Mozambique, Myanmar, Nepal, Netherlands, Netherlands Antilles, New Caledonia, Niger, North Korea, Norway, Oman, Pakistan, Paraguay, Peru, Philippines, Poland, Portugal, Réunion, Romania, Russia, Rwanda, Saint Martin, Saint Pierre and Miquelon, Saint Vincent and the Grenadines, San Marino, Sao Tome and Principe, Saudi Arabia, Senegal, Serbia, Sint Eustatius, Slovakia, Slovenia, Somalia, South Africa, South Korea, Spain, Sudan, Suriname, Sweden, Switzerland, Syria, Tajikistan, Thailand, Tibet, Togo, Tunisia, Turkey, Turkmenistan, Ukraine, United Arab Emirates, Uruguay, Uzbekistan, Vietnam and Zambia.
Many countries use multiple outlet types and multiple adaptors might be required. Find the country you are visiting in the adaptor guide for more detailed information on which adaptors are required.
Dimensions:
Main Body: 6.7cmH x 5cmW x 3cmD
Weight:
148 grams
Plug:
Type A, Type C, Type G, Type I
Put this piece to the test on your next trip and make sure it's right for you—if not, you can return it anytime within the first 100 days of purchase.

Our bags and accessories are all protected by a limited one-year warranty, which means that if anything breaks in your first year, we'll fix or replace it. Learn more about our warranty.

Keep in mind that while personalized items cannot be returned or exchanged, they are still covered by our warranties. For shipping info, see our FAQ.