Corona Virus Daily Updates
Today

- Scott Morrison prepares for more stimulus after G20 warnings

Employers and their workers will gain more support to see them through an economic deep freeze that could last for months, as the Morrison government prepares a third stimulus package to help companies emerge after the crisis.

Prime Minister Scott Morrison spoke to world leaders on Thursday night about ways to shore up the global economy and guarantee supply chains for medicine, in a crucial meeting to ease friction between China and the United States. 

In a sign of the global pressures, Australia has offered to help the Pacific region in a wider G20 effort, discussed in the emergency videoconference, to help developing nations deal with the COVID-19 virus.

The strain on the global economy is feeding into the Morrison government's work on ways to shield Australian business, with a focus on measures that could help companies "hibernate" through the worst of the crisis.

Source: SMH
26th March 2020 - 8 in 10 Australians need to stay home to flatten the curve: new modelling
Australia has a chance to get the upper hand on coronavirus if 80 per cent of people stay at home - for most of the time - for the next three months.

At the moment Australians have managed to cut our social contact by about 50 per cent, which will flatten the peak of the pandemic by about two-thirds, according to Professor George Milne from the University of Western Australia.

He has produced one of two computer models showing that under our current social distancing measures the pandemic will peak in July and be largely over by September.

If Australians reduce their social contact by 80 per cent the virus could be under control by July, Professor Milne said.

That would mean "people with their doors glued shut", he said.
Source : SMH
24th March 2020 - 'Do not leave your home': Boris Johnson locks down Britain

Prime Minister Boris Johnson has ordered a lockdown of Britain in a decision that takes the country from having some of the most relaxed restrictions in Europe to some of the toughest in the space of just three days.
In a rare, late-night address to the nation following a sharp rise in the United Kingdom's death toll, Johnson said all non-essential shops, libraries and playgrounds would join restaurants, bars and cafes in closing.
People can only leave their house to shop for basic necessities, attend medical treatment or travel to and from essential work, Johnson said. He warned the public could be stopped by police to explain why they are out of their homes and could be fined, similar to the situation in France where thousands have been sanctioned for breaking the rules.

"These are the only reasons you should leave your home," Johnson said. "You should not be meeting friends. If your friends ask to meet, you should say no."
Johnson announced last Monday that anyone who could work from home should, and also advised the public to avoid pubs and restaurants if possible. He said on Wednesday that schools would close indefinitely from the end of the week.
Source: SMH
23rd March 2020 - Drastic bans on pubs, gyms and cinemas in bid to stop coronavirus
Prime Minister Scott Morrison confirmed on Sunday night states would virtually shut down from midday on Monday but rejected suggestions the national cabinet process had broken down after Victoria and NSW announced their own plans ahead of the meeting.

He said from noon all states would shut pubs and clubs as well as cinemas, nightclubs, casinos, gyms, indoor sporting venues, churches and places of worship, while cafes and restaurants would only be open for takeaway.

"We are not putting in place lockdowns that put people and confine them to their home. That is not a measure that has been contemplated at this point. So there is no reason for anyone to do that."
He said Australians must "do their bit" to enforce social distancing practices, which were "not being observed as well as they should be".

But he said the latest measures were stage one and the national cabinet would consider extra measures if current restrictions did not halt the spread of the virus
Source: SMH
19th March 2020 - Qantas to ground international flights, stand down two-thirds of staff
Qantas will ground its entire international fleet, including overseas Jetstar flights, from late March following the government's most recent advice for Australians to avoid travel, with the airline boss declaring the industry in "crisis".
Earlier in the week Qantas announced that 90 per cent of its international capacity and 60 per cent of its domestic capacity would be cut to deal with the virus crisis.

There will be no impact on freight services, though no passengers will travel on those flights. Sources close to the airline said it had recorded a significant increase in demand for its freight services. Some passenger services could be used for freight purposes.
Source: SMH
18th March 2020 - The PM's press conference: key points
Prime Minister Scott Morrison addressed reporters in Canberra earlier this morning. Here are the key points:
Australians are being told to not travel overseas, with an unprecedented "level 4" travel warning in place for all other countries.
The ban on non-essential mass gatherings now applies to indoor gatherings of 100 people or more. The ban on non-essential outdoor gatherings is still at 500 people.
There are new restrictions on who can enter aged care facilities. People who have returned from overseas in the past two weeks, have been in contact with a COVID-19 case, or have a fever or respiratory infection symptoms are affected, and from May a person will need to have had their flu vaccine to enter.
The Prime Minister has warned of "at least six months" of disruption.
Source: SMH
17th March 2020 - EU to block entry of all non-residents in bid to control COVID-19 crisis
All non-essential travel to the European Union will be banned in the largest attempt yet to control the coronavirus pandemic sweeping the continent, as French President Emmanuel Macron declares his country "at war" and suspends all bills and rents.
The ban, which will likely be approved on Tuesday, will last for 30 days but is likely to be extended for months as Europe battles its worst peacetime crisis. The unprecedented measure will hit millions of tourists and deepen the economic fallout triggered by the COVID-19 pandemic.
The ban will not prevent EU residents from travelling from one country to another, however a growing number of countries are closing their own borders to all non-citizens.
In an extraordinary address to the nation, Macron said the country would be locked down from midday Tuesday and blasted French citizens who had ignored advice to keep their distance from other people. Macron also suspended all gas, electricity and water bills, as well as rents.
Source: SMH
16th March 2020 - Concession card required to access Woolworths' vulnerable shopper hours
Elderly and disabled shoppers will be required to provide a concession card to access exclusive shopping hours at Woolworths stores across Australia between 7-8 am, starting Tuesday and running until at least Friday.
The dedicated hour, announced on Monday morning, is designed to ensure vulnerable members of the community are able to purchase staples amid the frenzied panic-buying that has left shelves bare.
Source: SMH
15th March 2020 - Victoria declares state of emergency for four weeks
Victorian Premier Daniel Andrews has declared a state of emergency for four weeks to try to stem the spread of coronavirus.
The declaration gives authorities powers under the Public Health and Wellbeing Act that have never been used before, allowing the Chief Health Officer to do whatever is necessary to contain the spread of the virus and reduce the risk to the health of Victorians.
People who don't comply with a directive could be fined $20,000. It was also announced that care packages will be made available for vulnerable people in self-isolation.
Source: SMH
13th March 2020 - The Australian Grand Prix has been called off after teams and drivers forced the hand of Formula 1's bosses.
A decision to cancel the race was made in the early hours of Friday morning after a McLaren team member tested positive for the coronavirus in Melbourne.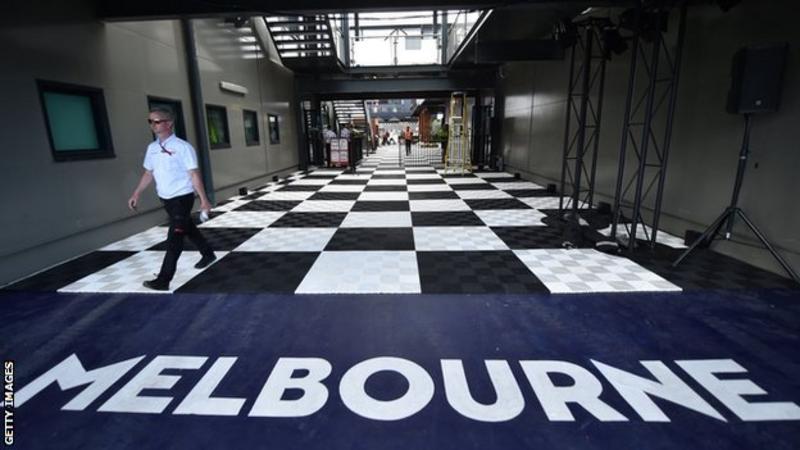 By that time Ferrari's Sebastian Vettel and Alfa Romeo's Kimi Raikkonen had flown home. And McLaren said later on Friday that 14 further team members had been placed in quarantine in their hotel for the next 14 days because of their close contact with the infected employee.
The decision throws into doubt the rest of the F1 season, with the Bahrain Grand Prix due to take place next weekend without spectators the next race to come under scrutiny.
Confirmation of the abandonment in from the FIA and F1 came after Mercedes sent a letter requesting the cancellation of the race.
Mercedes said: "We share the disappointment of the sport's fans that this race cannot go ahead as planned. However, the physical and mental health and wellbeing of our team members and of the wider F1 community are our absolute priority.
Source: BBC