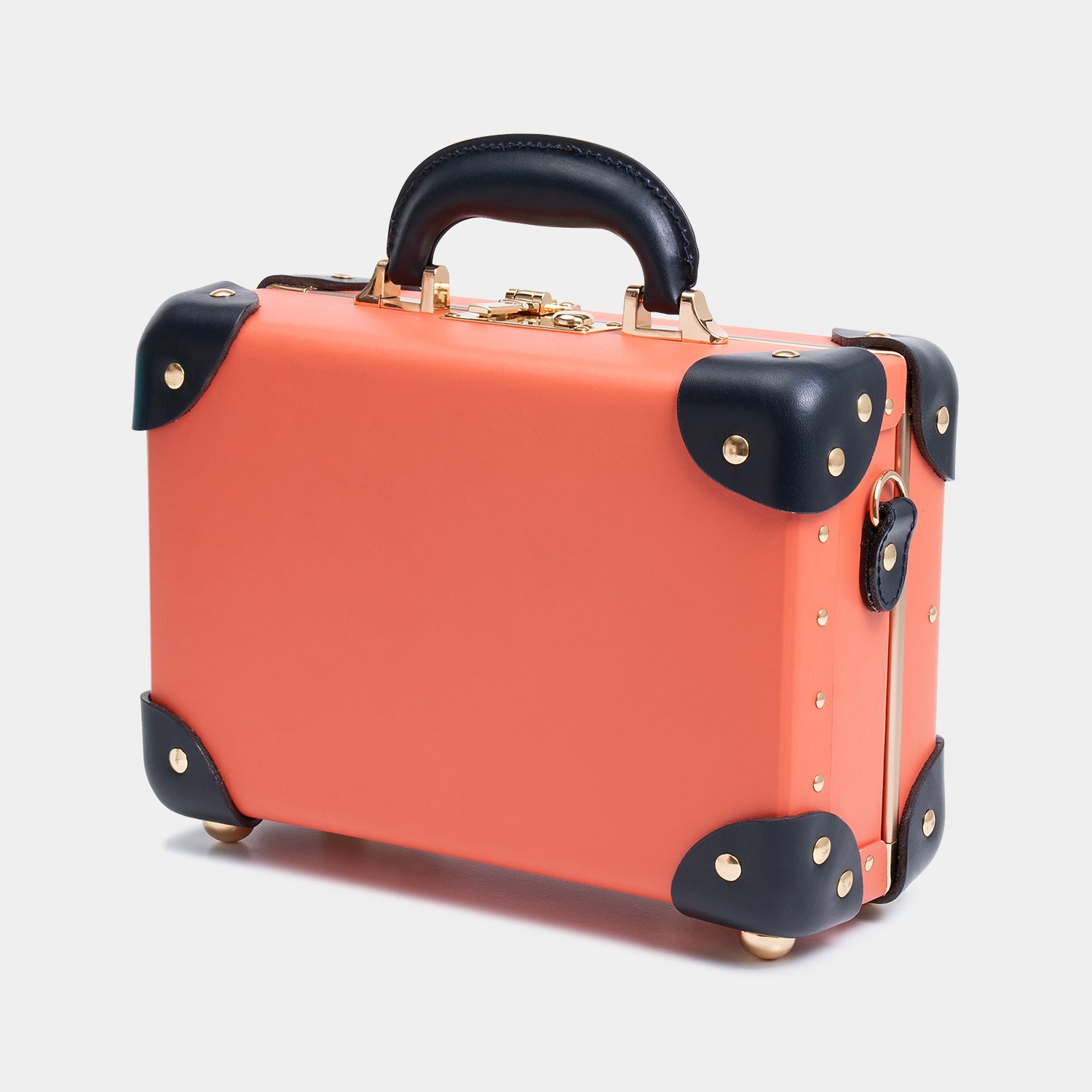 Heritage Cross Body Case
$279
The limited edition Sunset Commute colorway featuring a fun mandarin casing with smooth black leather trim on the Globite Heritage Cross Body Case presents a classic look for a chic handbag, or even a vanity case as the occasion calls. The case's old-world brilliance is matched by the gold finishings and bespoke lining inside the case featuring minimalist stamps from choice travel destinations.

This vintage, petite case comes with a shoulder strap to be worn crossbody for everyday ease, and a luggage attachment strap for on-the-go mobility. Crafted from sustainably sourced Japanese Pasco fibreboard, the Globite Heritage Cross Body Case is sturdy while lightweight, strong while versatile, and most importantly, fun while elegant.
FEATURES:
Sustainably Sourced
All Globite Heritage Cases are made from sustainably sourced Japanese Pasco boards, comprised of wood fiber and used paper. Japanese Pasco is renowned for its strength and flexibility, and is resilient to impact, making it the perfect travel companion.

Detachable Leather Straps
The Heritage Cross Body Cases feature detachable leather shoulder straps, for easy everyday use, and leather case attachment straps, to attach the vanity case to the extended handles for your favourite carry-on or check-in luggage.

Built to Last
The vintage case comes with internal pockets for additional storage, a smooth, crafted leather carry handle and a snap-lock with key for extra security.

Limited Edition Design
Globite's Sunset Commute design encompassing the mandarin casing, the black leather trim, the bespoke internal lining and the gold finishings are part of the limited edition collection of Heritage Cross Body Cases.

Dimensions:
20cmH x 30cmW x 12cmD
Weight:
1.32kg
Put this piece to the test on your next trip and make sure it's right for you—if not, you can return it anytime within the first 100 days of purchase.

Our bags and accessories are all protected by a limited one-year warranty, which means that if anything breaks in your first year, we'll fix or replace it. Learn more about our warranty.

Keep in mind that while personalized items cannot be returned or exchanged, they are still covered by our warranties. For shipping info, see our FAQ.